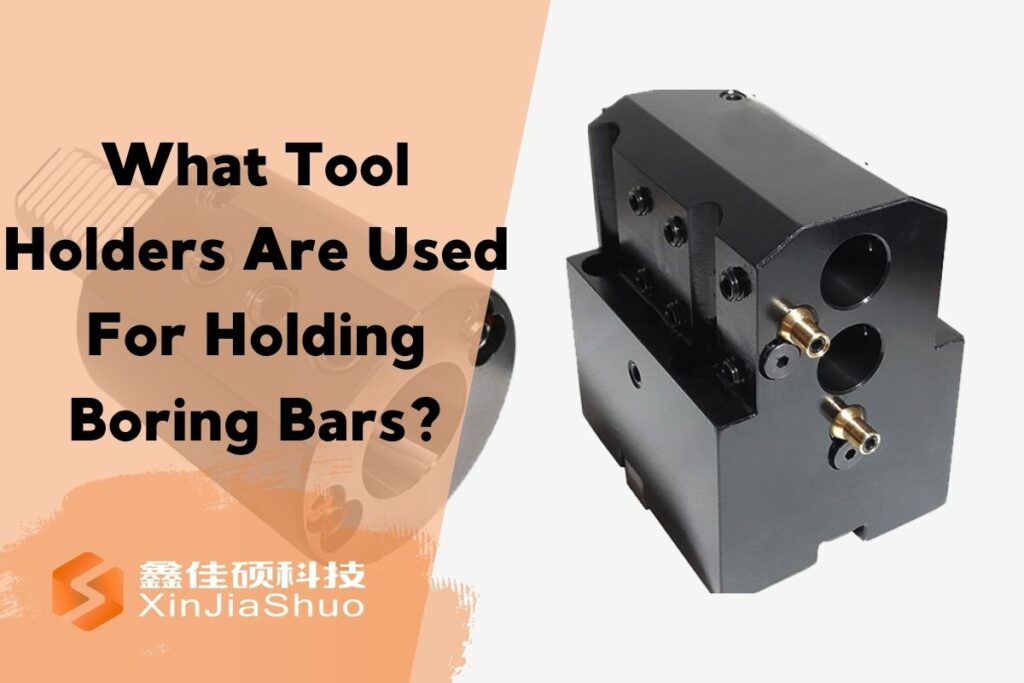 Boring bars are essential in machining as they help create internal cylindrical shapes in materials. They come in different sizes and shapes, making them suitable for various machining applications. However, to hold boring bars in place, you require boring bar tool holders.
In this blog post, we will be discussing the two most common types of tool holders used for holding boring bars: the VDI boring bar tool holder and the BMT boring bar tool holder.
Common Tool Holders For Holding Boring Bars
VDI Boring Bar Tool Holders
VDI stands for "Verband Deutscher Ingenieure" which is German for "Association of German Engineers".
The VDI boring bar tool holder is a type of tool holder that is commonly suitable for CNC machines. It has precision-machined grooves on the shank that fit into a matching slot on the machine turret.
The VDI tool holder also has a set screw that secures the boring bar in place. This tool holder has high repeatability and accuracy during machining operations. It allows for quick changes between cutting tools, making it ideal for industries that require frequent tool changes.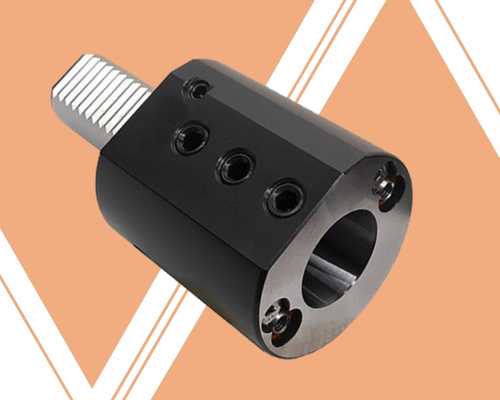 BMT Boring Bar Tool Holders
BMT stands for "Built-in Motor Turret", which is a type of rotary tool system used in CNC machines.
The BMT boring bar tool holder is flange-mounted on the turret, with a bolted connection to the tool holder. This design provides increased stability during heavy-duty machining operations and offers improved vibration damping and reduced chatter during machining.
BMT tool holders are also suitable for use with larger diameter boring bars, and they are easy to retrofit onto existing machines without the need for additional adapters.
Both VDI and BMT boring bar tool holders have their own unique advantages and disadvantages. And the choice between the two will depend on various factors such as the type of machine being used, the size and shape of the boring bar, and the machining processes involved.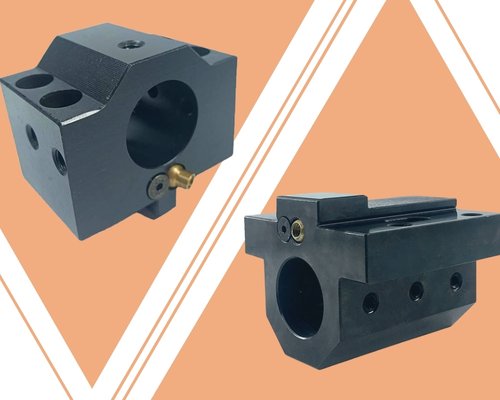 Factors to Consider When Selecting Boring Bar Tool Holders
When selecting boring bar tool holders, there are several factors to consider to ensure that you choose the right tool holder for your specific application. Here are some key factors to keep in mind:
Type of Machine
The type of machine you are using will influence the type of boring bar tool holder that is suitable for your application. Consider the spindle size and the type of turret or tool changer on your machine.
Material
The material you are machining will determine the type of cutting tool you need to use, which will in turn affect the type of boring bar tool holder needed. For example, if you are machining hardened steel, you may require a heavy-duty tool holder.
Cutting Forces
The level of cutting forces generated during your machining operation will also impact the type of boring bar holder required. Higher cutting forces will require a more rigid tool holder to prevent chatter and maintain accuracy.
Tool Length
The length of the cutting tool will also affect the choice of a boring bar tool holder. Longer tools require more support from the holder to maintain stability during machining.
Tolerance Requirements
If you require tight tolerances in your finished product, you will need a tool holder that provides high accuracy and repeatability. This may require a precision-machined tool holder with low runout.
Compatibility
Ensure that the boring bar tool holder you choose is compatible with the boring bar, cutting tool, and other components used in your machining operation.
Cost
Finally, consider the cost of the tool holder, as well as its expected lifespan and maintenance requirements. While it may be tempting to choose a cheaper tool holder, investing in a higher quality tool holder can help improve efficiency, reduce downtime, and ultimately lead to cost savings in the long run.
Overall, the selection of a boring bar tool holder is a critical decision that can impact the success of your machining operation. By considering these key factors, you can choose a tool holder that is best suitable for your specific application and requirements.
Conclusion
In conclusion, choosing the right boring bar tool holder is essential in achieving optimal machining results. Both VDI and BMT tool holder systems offer advantages and disadvantages depending on the machining application.
By considering the factors discussed in this blog post and seeking expert advice from tool holder manufacturers or suppliers, you can select the most suitable tool holder for your specific application, ultimately improving machining efficiency.
We are a professional custom tool holder manufacturer, producing BMT boring bar holders, cut-off holders, and facing tool holders. And we also produce VDI tool holders. Contact us to learn more information.
What Is The Boring Bars Tool Holder?
A boring bar tool holder is suitable for machining operations to hold the boring bar, which is a cutting tool that enlarges or finishes the diameter of an existing hole. The tool holder provides support and stability to the boring bar during machining, ensuring that it remains at the correct angle and position while cutting.
Boring bar tool holders come in various shapes and sizes and fit different types of machines, such as lathes, milling machines, and CNC machines. They are typically made from high-strength materials, such as steel or carbide, to withstand the high forces and vibrations generated during machining.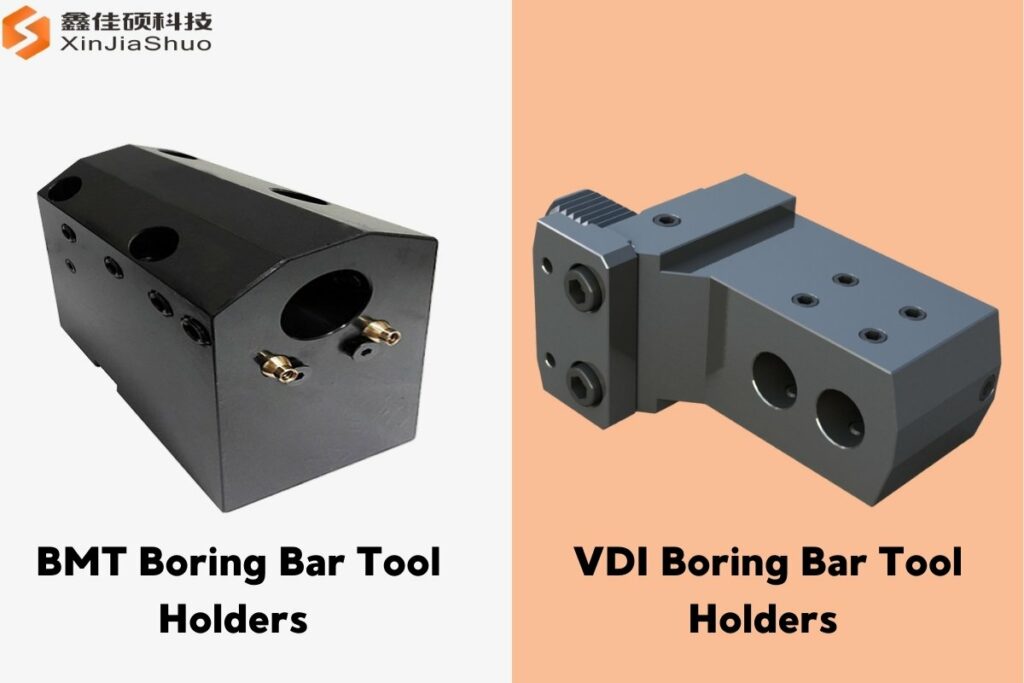 How Do You Mount A Boring Bar On The Tool Holder?
Mounting a boring bar on a tool holder requires proper alignment and tightening techniques to ensure a secure and precise fit.
To begin, loosen the set screws on the tool holder and slide the boring bar into the holder until it rests against the backstop.
Adjust the position of the boring bar so that the cutting edge is in line with the workpiece, and tighten the set screws to secure the bar in place.
It is essential to use the correct torque specifications when tightening the set screws to avoid damaging the boring bar or the holder.
Once the boring bar is securely mounted, check the alignment using a dial indicator to ensure that it is centered accurately.
Any misalignment should be corrected by adjusting the positioning of the boring bar before proceeding with machining operations.